(Affiliated to G.N.D.U , Amritsar)







Welcome from the Principal !


The Baring Union Christian College is a united endeavor of the Christian community in India for promoting rural life & development in conformity with Christian vision of human kind & the creation. The college seeks to be a national centre of professional excellence in education & service to the people with the participation of students & faculty members.


The College was founded by a true Servant of God with a vision to make our society self reliant. The Lord guided him and he cradled this Institution in the northern part of the state. His mission was to educate students of rural background to become innovators of the future. Since then, Baring College is devoted to continual nurturing a thriving learner community.












We look up to God with hearts full of gratitude for all His mercies during the years gone by. Gearing up for the new academic year is a new challenge for us to live & to serve the nation through this Institution. The Baring College is a unique Instrument of service for the physical & spiritual needs of the people of our Land. Therefore enabling the incoming and continuing students become achievers and nation builders, is our cherished goal.


Our students are supported spiritually, socially & culturally as well as academically during their time with us, which accomplishes our mission to be student-centered Institution. Our students come from all walks, but they share a common expectation for their educational experience. It's heartening to note the excellent performance recorded by our passing out students; bagging several medals of distinction & certificates of merit. We are also happy for our dedicated staff for shaping the lives of our students. When graduates and post graduates leave our campus with degree in their hands, armed with professional skills to build successful communities & nurture families, we thank God that we have succeeded in our academic mission.


Warm welcome to our incoming students. May the new academic year bring us all new blessings, so that the Institution continues to be an asset to our Nation.
Prof. (Dr.) Edward Masih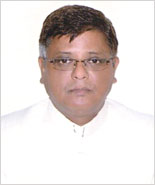 © 2012 BUCC, Batala. All Rights Reserved.